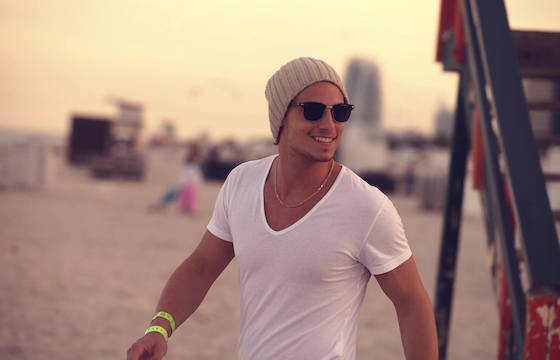 Mastering

Industry-Cooperations
"No pain, no gain"
Cedric Zeyenne has known and lived by this proverb since his early childhood. His greatest passion has always been ice hockey and he was well on its way to competing against the biggest names in the business. But besides the sport there was always music, at the young age of 16 he began working with music and soon it became the centre of his attention as he gained more importance overtime. Therefore, Cedric decided last year to put his cards on the table and focus on developing this passion.
Through teaching himself the skill of DJing at home, his sound already became famous 7 years ago in his region. While he was increasingly gaining confidence due to his various performances, Cedric was able to start producing his own tracks and mixes. His first priority was always quality! This was also evident to the club operators in Zurich, and soon the athletic blonde DJ was playing at legendary Saint Germain, where he was responsible for creating unforgettable events and entertaining the partyscene of Zurich.
Along with his success came Bookings with Afrojack at Kaufleuten Zurich, Steve Angello at Club Q in Zurich and countless other performances in different cities of Switzerland. Used to discipline and willpower, Cedric Zeyenne is not easily satisfied and therefore spends countless hours in his studio, which in turn is rewarded. His remix track "Drive Me Insane" (2010) made it to the legendary Ibiza CD and brought him some memorable Bookings to popular hotspots: Pacha Gran Canaria (Resident), Sea Lounge Monte Carlo along with Bob Sinclar, wedding Jan Tops and many more to come …
Cedric is aware that life as a DJ is not always played straight forwardly as one would like it, therefore he focuses more on his career as a producer, which was immediately intensified through the release of his first single "universal Dancing" in winter 2011. The track is available worldwide on Itunes & Beatport and suits his target audience's tasteperfectly.
Not to forget, of course, is his finest hour with DJ Cruz for the release of "Storm" of spring of 2011, with provided Cedric with an outstanding reputation and prestige. To give other young DJ's a chance, Cedric created his own party series at club Hiltl called "Cedric Zeyenne Night", which attracts countless fans and is held six times a year.
As always, while things are already going well, Cedric tries to top it off, as the sporty DJ does not settle easily. His own label production ZEYENNE 89 will be introduced and launched in August 2011 and is dominated by Modern andProgressive House with a touch of rock.
Above all, Cedric is fascinated by the production and composition of music aimsto exceed in every aspect of it. Not only does the piano playa great role in his beats, the guitar will now also find its place within his tracks to make them even more unique and exceptional. Zeyenne 89 will give him the opportunity to fullyrevel in his music and it creates a great opportunity for talented young artists.
Through his exceptional talent, his will and his love for music the Helvetic Nerd's team became familiar with global House DJs such as EDX and Chris Reece and shortly after became a member of their team. In the summer of 2012, the crew travelled to LA to produce various tracks and vocals which will be published soon. We are looking forward to it! Not to forget: Willy Monfret, the famous supermodel from NewYork is about to initiate his career as a DJ and producer within Progressive House. After a few recordings in Cedric's studio the Model was convinced of his work and decided to release his new tracks under Zeyenne's label!
And as you know by now, all of this will still not satisfy the ambitious Cedric Zeyenne. His goal is to conquer the studios and dance floors of the world and he wont let anything come between him and his dreams! Greetings from the ice hockey!